(Orangeburg, S.C.) - The Department of Social Sciences at SC State will host guest speaker, The Honorable Matthew J. Perry, Senior U.S. District Judge for the Fourth Circuit Court and SC State alumnus,'48, during the Social Sciences Speaker's Forum.
The event will be held on Tuesday, Dec. 2, 2008 at 3:30 p.m. in the Barbara L. Vaughn Fine Arts Center. 
 The Social Sciences Speaker's Forum is an initiative to bring distinguished personalities to SC State to discuss topical issues.
Judge Perry was appointed to the U.S. District Court for the District of South Carolina by President Carter in 1979, making him the first African-American to serve on the court. He assumed senior status in October 1995.
For more information, call Dr. Benedict Jua at (803) 536-8969.
Nashville, TN) – Depression is a condition that is largely ignored in the African American community, according to findings from studies conducted by Meharry Medical College's new Psychiatry Chair, Dr. Rahn Bailey.   Dr. Bailey, a nationally recognized expert in forensic psychiatry and attention deficit hyperactivity disorder, will present his findings during an open house at Meharry Medical College.
Delaware State University Law Studies Program will host a guest lecture by Dr. Peter R. Black, senior historian of the U.S. Holocaust Memorial Museum, who will speak on the topic "From Kristallnacht to the Final Solution: The Fate of the German Jews" at 7 p.m. Tuesday, Dec. 2 in the Longwood Auditorium in the Bank of America Building (College of Business).
 The lecture is free and open to the public.
The guest lecture commemorates the 70th anniversary Kristallnacht – "The Night of the Broken Glass" in late 1938 that marked the beginning of the Nazi's campaign of violence and property confiscation against German Jews. During the two-day Kristallnacht, 92 Jews were murdered and more than 25,000 were arrested and sent to concentration camps. More than 200 synagogues were destroyed and thousands of Jewish homes and businesses were ransacked.
(JACKSON, Miss.) - Jackson State University and the U.S. Department of Homeland Security will celebrate the grand opening of its newest Center of Excellence during a ribbon cutting at 10 a.m., Monday, Nov. 24 at the Mississippi e-Center @ JSU.
Awarded during the spring, the center for the Study of Natural Disasters, Coastal Infrastructure and Emergency Management is part of a partnership with the University of North Carolina at Chapel Hill.
Program participants include JSU President Ronald Mason, Jr., U.S. Rep. Bennie Thompson (D-MS), Felix Okojie, JSU vice president for research and federal relations and Jay M. Cohen, Department of Homeland Security under secretary for science and technology.
Oct 28, 2008 – CU Student, Walter Lewis, placed first at the NSF HBCU-UP Research Conference. The project is the result of his research conducted at the Brookhaven National Laboratory during his internships in the summers of 2006 and 2007.
Under the support of a grant from the National Science Foundation (NSF), the American Association for the Advancement of Science (AAAS) hosted the 2008 HBCU-UP National Research Conference last week in Atlanta, Georgia.  According to the AAAS, the conference features undergraduate student research and institutional strategies to enhance the quality of undergraduate science, technology, engineering, and mathematics (STEM) education and research at HBCUs. The HBCU-UP program champions for the important role that HBCUs have in increasing the numbers of underrepresented minorities that are well prepared for participation and leadership at every level of education and research in STEM.
A reformed drug dealer turned chef is coming to Fayetteville State University (FSU). Chef Jeff Henderson, who can be seen on the Food Network, will appear December 4 at 6 p.m. in J.W. Seabrook Auditorium on the FSU campus. His appearance is sponsored by Smithfield Foods. The event is free and open to the public.
Henderson grew up on the tough streets of South Central Los Angeles and San Diego in California. At age 19, he was running a $35,000-a-week cocaine operation. Five years later, he was arrested and sent to prison where he spent the next 10 years. While incarcerated, Henderson discovered a passion for cooking and the drive to turn his life around. He became the executive chef at Café Bellagio in Las Vegas, wrote a best-selling book, and now his focus is on helping others.
In his Food Network show, "Chef Jeff Project," he takes six at-risk young adults and commits to turning their lives around by putting them to work in his catering company, Posh Urban Cuisine. He arms them with the knowledge, the skills and, ultimately, the opportunity for a new life with a culinary career.
Henderson has received widespread national attention on numerous TV and radio programs and print publications, including "The Oprah Winfrey Show," "Good Morning America," "The Montel Williams Show," " CNBC," National Public Radio's "All Things Considered," ABC's "Person of the Week," People, and USA Today. Henderson lives in Las Vegas with his wife and three children.For more information, please call (910) 672-1474.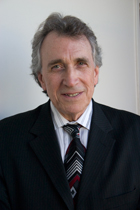 The Emerson Excellence Committee selected HSSU Professor of Sociology Dr. John Burke as a 2009 Emerson Excellence in Teaching Awardee. 
"I am honored to be recognized by the institution," said Dr. Burke. "I also have come to find that, for me, being a good teacher is like 
being a part of an improvisation group. Having the student as an active part of the process both helps to engage them in the endeavor, and it challenges me to be ready to incorporate their perspective into the topics that I am trying to present."
Legendary vocalist and seven-time Grammy Award winner Gladys Knight will be joined by world renowned comedian, actor and philanthropist William "Bill" Cosby for the Nov. 21 "Legacy For a Legend" gala concert presented by Liberty Bank & Trust.
The Friday evening Gala, planned to celebrate Dr. Norman Francis' 40th anniversary as president of the nation's only Historically Black and Roman Catholic college, will feature a concert at the Ernest N. Morial Convention Center (Hall B) with performances by Knight and Cosby, the latter of whom will also serve as master of ceremonies.
Liberty Bank & Trust, a local New Orleans institution since 1972, is the Presenting Sponsor of the Gala.
Cassie Davis, a star on the big screen and stage who has worked extensively over the years with producer Tyler Perry, will return to Spelman to present her highly anticipated senior showcase, "The Dream of my Life," on Saturday, November 15, at 8 p.m. in the Spelman College Fine Arts Building, Baldwin Burroughs Theatre. Davis, a member of the class of 1988, currently stars as Ella Payne in Perry's sitcom, "House of Payne."
Dr. Yolanda Wimberly Becomes First from School to Receive Humanism in Medicine PrizeAtlanta — Morehouse School of Medicine (MSM) pediatrician Yolanda Wimberly, M.D. has been named the American Association of Medical Colleges (AAMC) 2008 Humanism in Medicine Award recipient. Wimberly becomes the first MSM physician to receive this mark of distinction.
The award, sponsored by the Pfizer Medical Humanities Initiative, honors a medical school faculty physician who is a caring and compassionate mentor and a practitioner of patient-centered care.
The honor will be bestowed Nov. 1, 2008 at the AAMC Annual Meeting in San Antonio, Texas.
Wimberly is an assistant professor of clinical pediatrics and program director of the Center of Excellence for Sexual Health - the first such center in the nation.