(St. Louis, MO) – After the devastating earthquake that hit Haiti last month, Harris-Stowe State University, almost immediately, collected donations from its faculty and staff, raising $6,200 for the American Red Cross' Haitian relief efforts.
Haiti, a country that is especially close to Harris-Stowe's heart, was adopted by the University last year as a service-learning project. Numerous crates of new school supplies were collected by University personnel and sent to students at the Eben-Ezer des Abricots primary school.
The Harris-Stowe administration encouraged its faculty and staff members to give at whatever level they saw fit, as the Eben-Ezer des Abricots School now needs money more than ever. The school has decided to take in the overflow of children who have lost their parents in the Haiti earthquake.
Harris-Stowe State University presented a check to St. Louis Area American Red Cross CEO Cindy Erickson.
(St. Louis, MO) - The Harris-Stowe State University Players will present The Piano Lesson, February 25-27, at 8 p.m. with a student matinee on February 26, at 10 a.m. in Harris-Stowe State University's Emerson Performance Center's Bank of America Theatre.
With February being Black History Month, this play couldn't have come at a more appropriate time. Set in 1936 Pittsburgh, The Piano Lesson is centered on an 137-year-old piano and what to do with the historic piece. As the Charles family argues about the future of the instrument, their family's ties to slavery come to the forefront, along with the former owner of the piano who enslaved their ancestors. Playwright August Wilson won his second Pulitzer Prize for this play.
Director of the play and HSSU Humanities Instructor Gregory Carr said, "Wilson, a two-time Pulitzer Prize winner for drama, is virtually unknown to the African-American community at large. Hopefully this production will stir up interest in his considerable body of work and promote discussion."
HSSU students will portray the following leading roles: Ryan Cunningham ("Boy Willie"), Carisa McGraw ("Bernice"), Napoleon Williams III ("Doaker"), Jeremy Mitchell ("Lymon") and Stephen Sanders ("Wining Boy").  
Tickets for the evening shows cost $10 for general admission and $5 for students and seniors with a valid ID. Tickets for the student matinee cost $5. For tickets, please call Director Carr at (314) 340-3667 or Director of Speech and Theater Beverly Brennan at (314) 340-5975.
St. Louis, MO (January 11, 2010) – Harris-Stowe State University and the Anheuser-Busch School of Business proudly announces its free tax clinic, from February 1-April 15, 2010.
The free tax service is extended to any and everyone interested in having their 2009 taxes prepared by certified volunteers, under the supervision of Quintin Davis, CPA, accounting instructor at Harris-Stowe, and Owolabi Tiamiyu, assistant professor of business administration. Additional CPAs will be on hand to advise. While the HSSU tax clinic is open to everyone, it uniquely caters to international individuals and families, the elderly and low-to-moderate income households. Those who have a household income of $50,000 or less will be given priority service.
The free tax service schedule is as follows:
Mondays and Wednesdays
9:30 a.m.-1:30 p.m., Room 103 of the Dr. Henry Givens Jr. Administration Building, located at 3026 Laclede Avenue, St. Louis, MO 63103
Saturdays
10 a.m.-2 p.m., HSSU Anheuser-Busch School of Business, located at 5707 Wilson Avenue, St. Louis, MO 63110
Please make sure you have all relevant information necessary to file 2009 tax returns. For details, please call (314) 256-8188.
(St. Louis, MO) – Harris-Stowe State University Assistant Professor of Early Childhood Education Dr. Shereen Kader was recently selected to receive a 2009 Heartspring Award for Innovation and Creativity in Special Education. Each of the 10 chosen Heartspring awardees receive a $1,000 stipend, an original award sculpture, free travel and all-expenses paid to attend this year's Heartspring Award Summer Conference, which will run July 22-25, in Wichita, Kansas.
"It is very fulfilling to be rewarded for your innovative ideas and to know that these ideas have a great potential to make a difference in others," Kadar said. "I am thankful for the support and encouragement I got from the Heartspring organization and Harris-Stowe State University colleagues and friends."
Dr. Gary Singleton, Heartspring President and CEO, said of Dr. Kader, "We received many applications for this prestigious award, and your creativity and passion placed you among a very select group. There are many dedicated teachers, therapists and other professionals across this country and around the world who give of their time and talent to help children with special needs and or who are living in special circumstances, but there are many fewer who are truly pioneers who bring innovation and creativity to achieve even greater results for children in need."
Heartspring is a global center for children with special needs, and the organization has provided training to many other institutions for 75 years. Through the Heartspring School, Heartspring Pediatric Services, the Heartspring Hearing Center and Heartspring World Reach, the center has established greater independence for children with disabilities.
St. Louis, MO – Harris-Stowe State University junior Ahmadou Fall will intern with KPMG this summer. Fall, a power forward and center for the HSSU Men's Basketball Team and Accounting major, will work in the auditing sector of KPMG's Senegal branch. 
Fall is originally from Senegal and credits his receiving the internship to his 3.5 GPA and his ability to speak French, Wolof and English fluently. The internship begins in May and ends July. Fall met a representative from KPMG at the Black Executive Exchange Program (BEEP) annual conference at HSSU, which inspired him to learn more about the company and to look into their internship program.  
KPMG, an audit, tax and advisory firm, employs 137,000 professionals in 144 countries. For the fiscal year ending Sept 30, 2008, KPMG accrued $22.69 billion and serves 1/5 of the Fortune 1,000 companies as clients.  
St. Louis, MO – Harris-Stowe State University's Teacher Education Department presents the National Education Association (NEA)/Tom Joyner Praxis II Preparation Institute, a program designed to assist individuals with passing the Praxis II Examination, a mandatory requirement for the fulfillment of the teacher certification process. 
Harris-Stowe attained a grant from the Tom Joyner Foundation to make the institute possible, and Harris-Stowe is the only university in Missouri to acquire the grant.
The NEA/Tom Joyner Praxis II Preparation Institute is free and open to the public for those who qualify. Prospective candidates must meet the following requirements:
1)      Failed Praxis Exam at least once (must provide documentation)
2)      Minimum 2.0 cumulative GPA on a 4.0 grade scale
3)      Minimum 60 hours of completed course work
4)      Willingness to commit to a four-weekend program of study 
The upcoming session runs March 20, 21, 27, 28, April 3, 4, 10 and 11, 2009. For optimum results, participants should attend all sessions. On March 20, all participants should report to Room 205 of the Dr. Henry Givens Jr. Administration Building (HGA) with a copy of a failed Praxis score and proper ID. 
 
To apply, visit http://www.hssu.edu/sphome.cfm?DeptID=11 . For more information, please contact Harris-Stowe's Teacher Education Department at (314) 340-3673 or smithla@hssu.edu.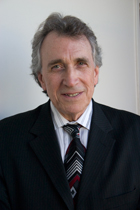 The Emerson Excellence Committee selected HSSU Professor of Sociology Dr. John Burke as a 2009 Emerson Excellence in Teaching Awardee. 
"I am honored to be recognized by the institution," said Dr. Burke. "I also have come to find that, for me, being a good teacher is like 
being a part of an improvisation group. Having the student as an active part of the process both helps to engage them in the endeavor, and it challenges me to be ready to incorporate their perspective into the topics that I am trying to present."